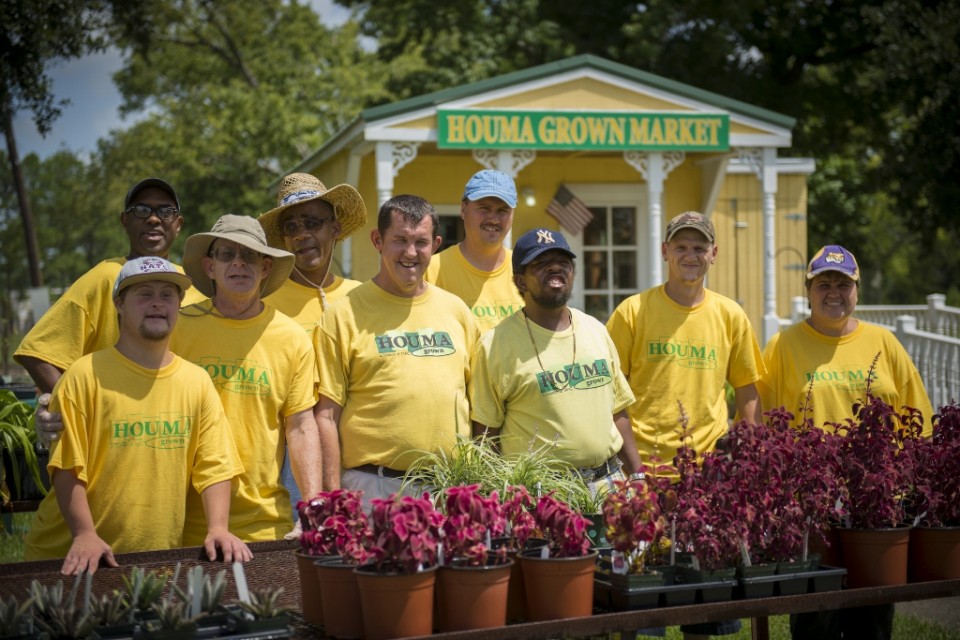 Houma Grown
Growing and caring for a wide variety of plants and produce provides individuals with the hands-on experience of maintaining a successful horticulture and cultivation business in HOUMA GROWN. This facility based program offers paid employment both on TARC's business complex and out in the community through garden maintenance contracts.
Houma Grown Products
Cajun Salsa & Pepper Jelly
High in flavor, Houma Grown's salsa and peppery jelly products have been a huge hit!  When you want something fresh and flavorful made from the heart, Houma Grown will not disappoint.
Houma Grown's Cajun Salsa is one of TARC's most successful products! Salsa lovers know that fresh products make the best salsas. Houma Grown Cajun Salsa is made in Mild, Medium, and Hot varieties. So whether your tastes run toward the hot salsa or the mild, there's something for everyone. Once you're hooked, there is no going back. It will leave you wanting more! Both Salsa and Pepper Jelly can be packaged in customized gift sets.
All products available in TARC Restaurant & Gift Shop Monday-Friday 7am – 3pm.
The Hen House
If you have never tasted a fresh farm egg, you are in for a treat.  Wholesome, delicious and harvested right on our facility, our farm eggs are some of the best you can buy.  Gathered from some of the happiest and best cared for chickens anywhere, TARC's Hen House eggs are really something special! Order yours today or just drop in at our Houma Grown Market or the TARC Restaurant and Gift Shop.  Our eggs sell at $3.00 per dozen.
Horticulture
Houma Grown's 12 workers enjoy selling the products as well as helping plant, water, pick, and clean the produce. A citrus grove, which includes a variety of different kinds of fruit trees, was planted on TARC grounds in 2008 and continues to strive today.  Houma Grown also composts leftover leaves, grass, and organic material to help in their gardens and soil throughout the grounds.
Hydroponics and Greenhouses
Houma Grown utilizes a hydroponic sustainable food production system (growing plants in chemically nutrient rich water) to produce tomatoes and cucumbers. We also  have two greenhouses that produces a variety of vegetables and plants.
Fresh and Local Produce 
Grab our "just picked" fresh produce, because they go fast!  We grow all of our produce naturally and locally at TARC, and our Houma Grown workers maintain the garden.
Hours:  Monday – Friday   8 a.m. – 4 p.m.