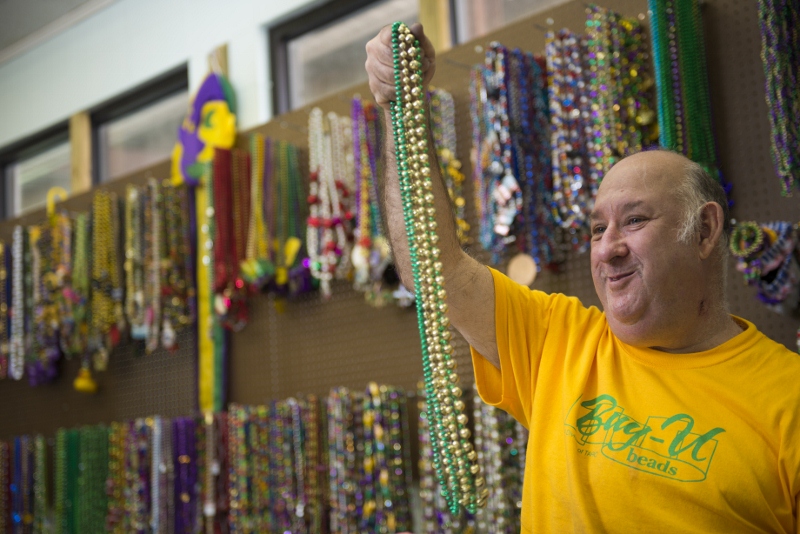 Buy-U Beads
This carnival season, let TARC's Buy-U Beads business service all of your throws for Mardi Gras!  Through generous donations from the community, this unique business employs over 12 workers that sort, package, and sell beads and throws that include stuffed animals and footballs to krewes and riders. During Mardi Gras, our Buy-U Beads truck and trailer ends each local parade with a crowd-pleasing bead collection process.
Donations
TARC is always collecting donated Mardi Gras beads!  For donations, please drop off beads at TARC or at any Cedar Chest Boutique location in Houma.
Bead Drives
Are you looking to organize a bead drive with your school or organization? Our Buy-U Beads business is always accepting Mardi Gras bead donations!  Contact us today to help you get started!
Products                                                                                                               
Through various donations, the Buy-U Beads business is able to offer a variety of throws for your Mardi Gras parade, including specialty beads.  For a low price, Buy-U Beads provides riders with an assortment of multicolored 33-inch beads, separated by the dozen in crawfish sacks.  Buy-U Beads also sorts and packages 48-inch beads or longer.
Price List
Length                               By Sack                       Price
33 Bead Sack                        6 gross                          $24.00
48" Bead Sack                      3 gross                          $16.00
Football Sack                                                               $10.00
Toy Sack                                                                        $10.00
(Includes Stuffed Animals, Frisbees, Cups)
Small Street Beads               suitcase                      $5.00
*Bead Prices Subject to Change
Open Monday – Friday 8 a.m. – 3:00 p.m.