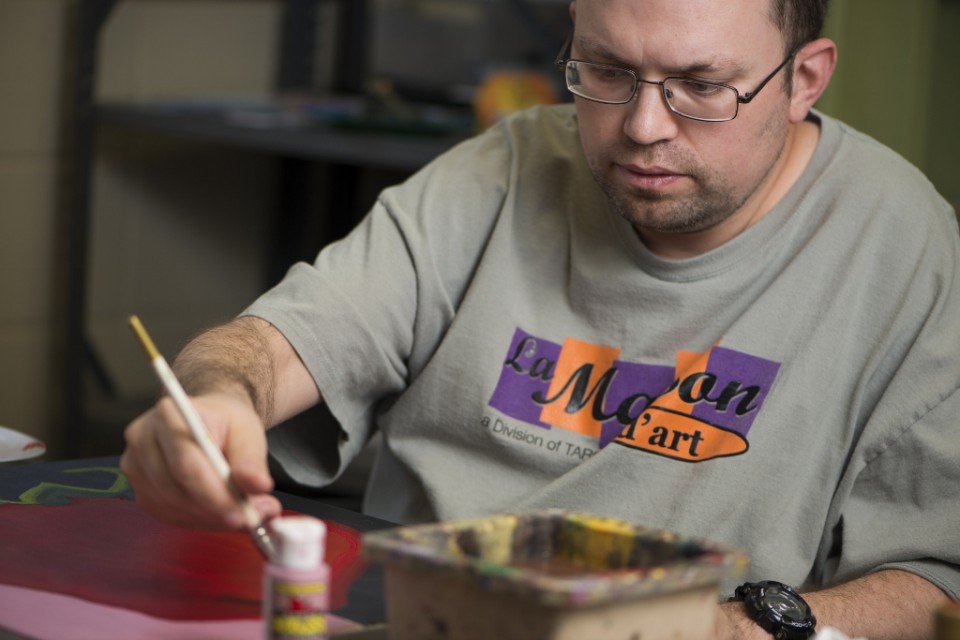 La Maison d'Art Therapy
The power of art to restore, focus and lift up the human soul is powerful and nowhere is this seen so readily as in TARC's La Maison D'Art.  While the art serves as a form of therapy for members of TARC, what is produced never ceases to amaze and inspire those who view it.  Not every work of art or project is a masterpiece but everything that is produced is important. Some art even has its own following and is frequently found for sale in the TARC Gift Shop.  For a unique and personal gift, be sure to check these pieces out soon.
TARC's La Maison d'Art therapy program provides a means of learning to express ones creativity through art. Exposure to art in its many forms inspires our adults to create masterpieces beyond anyone's preconceived notions. This unique program offers participants the skills to increase communication, self-esteem, well-being, and overcome stress while utilizing a variety of art mediums: drawing, painting, wood, ceramic, and craft kits.  Each art activity combines all aspects and explores individual communication, emotions and behaviors within the group.  Aside from daily art therapy, this program includes physical activity and community integration experiences.
Slumped Bottles 

When you are looking for that most unique gift or conversation starter, look to the Slumped Bottles of La Maison D'Art. These once proud decanters of some of the most popular wines and spirits, are given a second life in our unique and creative flattened form. Still very recognizable as their former self, these bottles make ideal serving plates for your hor d'oeuvres and snacks. For a more pragmatic application, use them for a spoon rest next to the stove. Wherever and however you use them, they are certain to be a point of conversation.
Hours:  Monday – Friday   8 a.m. – 3 p.m.