Volunteer
Volunteering with TARC is a rewarding experience that you will never forget! We welcome volunteers of all ages and abilities for one-time service to ongoing opportunities.
Giving back to your community has never been so easy and enjoyable.  Donate your time and talent to TARC today. Many opportunities are available.  Download our TARC Volunteer Application and include your 3 letters of reference to participate in TARC's volunteer program.
TARC welcomes
individuals
community, service, and church groups
business and corporate individuals
youth who need to fulfill school volunteer requirements
Special Event Volunteers
Throughout the year, TARC's social club, Let's Get Together, holds large themed dances as well as bowling nights and other events.  These events could not be possible without the help of volunteers.  If you or your group is interested in volunteering for these special events, contact Erica Null Pellegrin at enull@terrebonnearc.org for more information.
TARC sincerely thanks you for your interest in making a difference in the lives we serve.
ARC of Louisiana's Volunteer of the Year 2011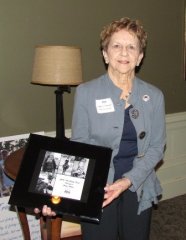 Mrs. Shirley Rome Watkins
For almost 18 years, Mrs. Shirley Rome Watkins has been an incredible asset to TARC with her outstanding dedication and love of TARC through volunteer work.  "Being at TARC for so long, I've seen so many TARC individuals grow personally and through their work opportunities.  I've developed a special closeness with them, and it keeps me coming back.  I feel appreciated at TARC, and I love when I walk into the TARC Restaurant I get such a warm reception.  I've definitely enjoy my volunteer experience at TARC."